1.butterfingers-kabus ribut
punyela lame dah donlod.. baru dpt tenok vclip nih tadi.. satu mende nak cakapkan: asal kadak kiut sgt dlm vclip nih ha?:D seriyes comel.. aaagaga.. suke kadak;)) sejak dulu lagi.. hehe [takde maknenyeh:-"]
2.examination is suxx
im exhausted!~ truly~ i have another paper nexwik.. these few days were damn-hectic.. penat sgt rasenye otak ni.. 3 papers in a row.. bbtol menguji and im depressed with my performance [altho the results havent come out] but i can feel the err.. tanak sebot :((..
and finally my mom discovered my rawk-voice sbb after the first paper of xm i cried to my sis unknowing the present of my mom kat situ.. they both in the car.. so then mom called me back and start risau2kan my crying-condition + my sorethroat.. patu start la proses betuka2 gagang tepon antare mak n ayah and both with the nasihat: dah jan pikir sgt dah.. makan jan tinggal.. tido jan tinggal.. semayang jan tinggal.. study leklok.. huhu sori termenyusahkah plak.. ahhh... nak balik mesia hohoho:((
3.cleaning out my closet
yaallah gini ke ghopenyeh bilik guek?? punyela serabot otak... tak sempat je nak mengemas pfuff..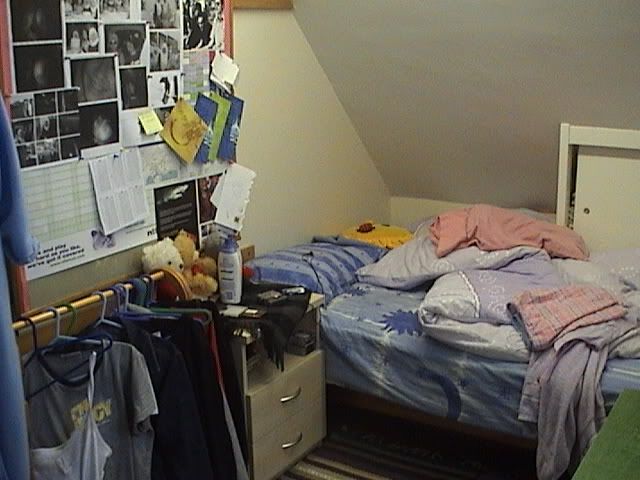 4.thanx eja muahmuah:*:*
thanx eja for these kueh raye.. esok2 bole anta lagi yeh:D..
sodap.. especially yg beskot sekelet patsegi2 tuh..
eja ckp mesti sbb die rase cen susu susu tuh psl guek suke? ye kot...
niway.. dah selamat abes pon.. nih gamba sebelom proses penerkaman:-"
5.cepatla abes huh
my wishlist after the xm erm mbe:
-tuka templet blog nih.. dah busok sgt
-burn segale makneka kejadah dlm hatdisk-40gb-tinggal less~3gb[d-drive]:-o
-heho spain-tour... tolongkanlah!~
mood of the moment:fenatttnyefff
song of the moment:blink 182-always plak
i wanna be:sleep until tomorrow's tomorrow.. qada'