1.satu dah bangon...
awak bangon pagi dan dudok di atas katill..
dan ade sorang wanita tengah urai2 ramotnye yg panjang ituh pakai sikat di tepi cermin samel menseru: " satu dah bangun... "
dan dia ituh kemudian menghilai2 ketawa 8-x
lalu awak pon tido smula scare terkencing didalam suar..
that is the most popular ghost-story in hostel..
sape dudok hostel dan tatau citer ituh mmg sa-orang yg dudok didalam locker dan tak pegi prep la tuh kot..
2.satu dah abis..
owh disini ingin saye katekan..
satu dah abis.. another 3 to go.. wula wula wula wuu lalaaa..
bila yanz tanye: caner?
guek jawab: tatawula awak.. saya serahkan segalanya kepada takdir.. 8-x
emumumuhuhuhukk.. korang seme nih doakan ke tak nih? :((
3.satu dua tiga empat lima err.. tade dah sebenanye..
rose-online is resetting all user's account: as in: seme akan polang ke pangkal jalan, T___T
dudoklah di level abis atas [eg: lvl 169] sekalipon.. semorang akan kembali ke nOOb.. start fresh from lvl 1.. ahaha sia2 pengorbanan masa/tenaga/bil tmnet bagi sesape yg dial-up tuh/airliur apebile menyumpahseranah KS-ers/leechers/laggings/muses/mages/blahblahblah selama hampir 4bulan dah kot ek?
bak kate yanz [balik2 yan]: 4 bulan sial aku takde life! they simply reset the ****ing game wuoooooo~..
and i quote from the international ROSE Online GM team:
"We would like to announce you that we've decided to reset IROSE service
through this week's update. Level, skill, items, job will be reset.
Some balance problems and unsatisfied parts will be patched.
There might be many of users who feel sorry about your previous
avatars but we are expecting constant loves like before. This reset and
update will give you more exciting and fun IROSE."
i cant feel sorry enuff ehehehe..
altho im not as biggest-obsesser as others yg sampai ade tuh 2-hari tak tido sbb nak lvl-up uh uh uh.. but still i felt the impactla doewh.. tell the truth.. membazir masa ya, but come to think of it, byk mende blaja la kot ek, kenal ragam org, ade yg cpt melenting, ade yg cpt melatah, ade yg cpt nak ngamok2, ade yg sesikit nak majok, not forgetting byk gok smiley2 ish ish guek pon tak tawula comel2 ituh, summore.. u did did make frens in it, not only from malaysia, [walopon ahli-clan kami mostly malaysian: yance-d-smithy, jaslan-d-jessie, gimliey-d-gimli, haxxor, cool-d-english-expert tuh, pembunohupahan, en.number-d-4783, lita, wana, tenno-d-samseng(retired early), azizie-d-yukimura(pon retired early)] but we got frens from other nation oso suchs: singaporeans, filipines, us, indons, canadians, and got one in our clan from guildford oso meh![originally from reading but studying musics in guildford] wula wula~
hnm.. nuff said.. reset is reset.. no turning back.. ganbareganbare bladesingers utk menubohkan clan baru kelak.. and i still havent decided to play back or not *thinking-thinking*..
see la mcm bejanggot guek nak memakai inih devil wings akhirnya hukhukhuk kena start again:(.. and smith ituh dah lvl 120 baru dpt nak pakai tojen merah tuh :(..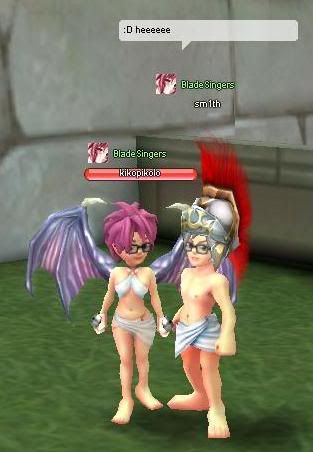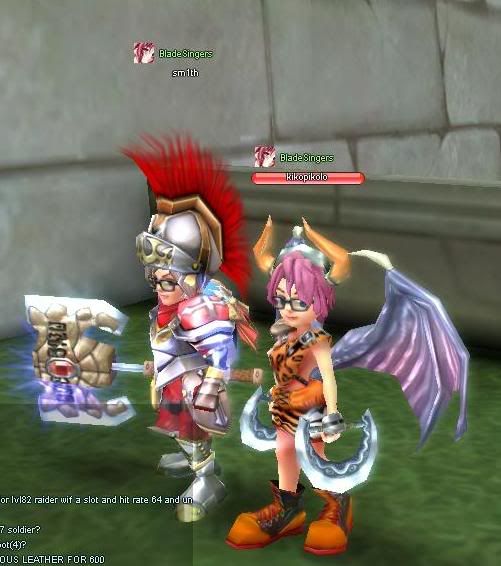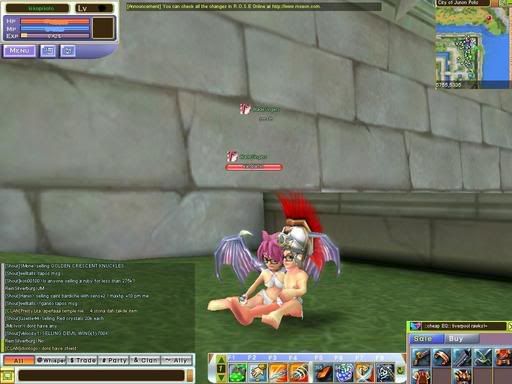 duhhh... i'mma missing these people.. enchek gemli, enchek smith the boss [clanmaster], kiko-kuh, wana, lita, pem, en.number.. [dan mmg 'tak' ramai budak mmu kan].. marihlah kita membuat clan baru nanti.. go bladesingers~
mood of the moment:turrr :-s i just read a blog that rejuvenate me huhuii
song of the moment: bomfunk mc - freestyler [^^]
i wanna be: hnm.. i quote josie n the pussycat's " i wish i was lonely.. instead of just only.. crystal n see-tru n not enuff tuyu" and that i dediket to miss-eja :( [eja.. im here if u want me.. im yours u can hold me :D]